South Mississippi Genealogical & Historical Society Meeting
May Meeting information.
Prehistoric Indians of South Mississippi



South Mississippi Genealogical & Historical Society invites everyone to its regular monthly meeting Tuesday, May 2, at 7:00 p.m. at the Genealogy Library, 107 S. Park Avenue, in the rear of the Hattiesburg Water Department. The program on Prehistoric Indians of South Mississippi will be presented by Dr. Ed Jackson, University of Southern Mississippi Professor of Anthropology. Dr. Jackson, specializes in archaeology of prehistoric populations and has spent many years conducting research at Winterville Mounds, a ceremonial mound complex near Greenville. Colonial records document at least 24 different tribal groups living within Mississippi's present-day boundaries. The presentation will feature the past 10,000 years of Native American occupation in Mississippi's Pine Hills and traditional cultures of Native Americans. If you've ever wondered about the age and what kind of artifact you have in your collection, you are encouraged to bring them to the presentation. Meetings are free and open to the public.
The Genealogy Library opens at 6:00 p.m. before the meeting and on Saturdays from 10:00-2:00 for personal research.

Contact Kathy Goss for more information: gosskathleen@gmail.com or 601-544-5210.

EXCITING NEWS!--our Genealogy Library will soon have a new home. Mayor Dupree and the city are remodeling an old home near the public library, at 307 2nd Avenue. We met with the engineers and construction crew and presented our wishes and needs for the space, and work has begun. We were told it may take 6-8 months. If you're in town, drive by and take a look.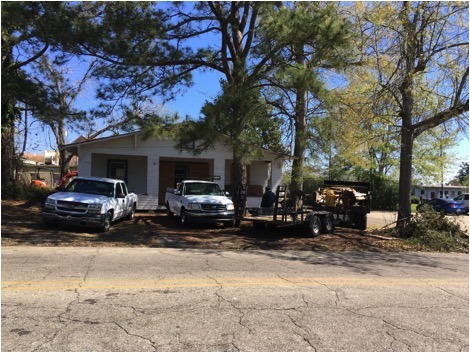 This picture is the "before" look.
The final version of our by-laws has been upload. Read them here.
MEETINGS
South Mississippi Genealogical and Historical Society meets at 7:00pm the first Tuesday of each month at 107 South Park Avenue, Hattiesburg, MS. The meeting room and library are located in the rear part of the Hattiesburg Water Dept. Bldg in the edge of Kamper Park. On rare occasion the date for a meeting is moved or canceled in which case a notice will be posted.
LIBRARY
The Library of the South Mississippi Genealogical and Historical is open each Saturday morning from 10 am to 2 pm except on major holidays. It is also open at 6 pm before each meeting. Appointments at other times can be arranged by calling the librarian at 601-606-4700 or 601-271-2384.

It contains a modest collection of books and journals with emphasis on data from counties of South Mississippi. It now houses the Genealogy collection from the Library of Hattiesburg-Petal-Forrest County.

Visitors are welcome.
Officers 2012/2013 (Oct .1, 2013 to Sept 30, 2015)
President, Martha Parker
V.Pres, Kathleen Goss
Secretary, Myrna Lazenby
Newsletter Editor, Laurie Crowson
Treasurer, Gene Phillips
Historian, Joshua Hodge
Librarian, Jeanne Tutor
Publicist, Kathleen Goss
Web Master, Gene Phillips
If you have a subject you would like to present in a program or if you know of an interesting guest speaker, you can send it to Gene Phillips
Notice
Our working year is from Oct 1 until Sept. 30.
Dues for 2016 are due by Oct. 1, 2015.
See the membership page for rates and address.
SEMINAR
There are no plans for a 2013 seminar.